Vegans want to remove as much cruelty and exploitation to animals as possible so remove meat, fish, eggs, dairy, leather and even honey from their lives.
Are Condoms Vegan? Most certainly are not. Making Latex involves Milk Casein, a dairy-derived product that means that standard Condoms are not suitable for Vegans.
Luckily for Vegans, Vegan Condoms are available from…
(please follow links to view Condoms)
Skyn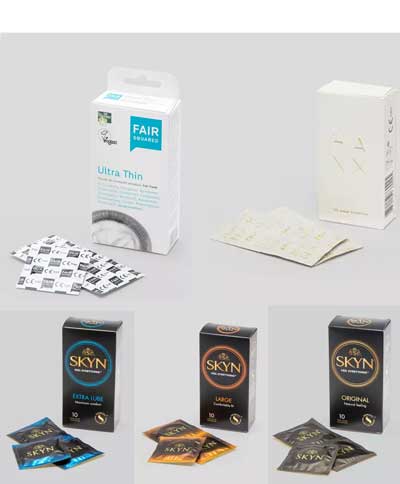 Fair Squared Condoms
Fair squared Condoms are manufactured in Germany from Fair Trade ingredients and materials using a process that eliminates Casein, making these Condoms suitable for vegans.
Five different Condoms are available from Fair Squared, including original, standard-sized  Ultra Thin, ultra-thin condoms with a thickness of 0.055mm. Sensitive-Dry, condoms without lube XL 60 extra-long and wide condoms Max Perform include a built-in Penis Ring for extra stimulation and safety.
Fair Squared Condom Measurements
Original – 200 x 54 x 0.065 mm
Ultra Thin – 180 x 52 x 0.055 mm
Sensitive Dry – 180 x 52 x 0.06 mm
XL – 60 – 205 x 60 x 0.07 mm
Max Perform – 160 x 52 x 0.07 mm
Hanx Vegan Condoms
Hanx condoms are made from Vegan-friendly 100% Fair Rubber latex. All Hanx condoms have been officially certified by the Vegan society. Ultra-thin at around 00.55mm and ultra-safe, verified by CE mark. Only use with waterbased lubricants.
Available in 2 sizes
Regular – 180 x 52mm
Large – 190 x 54mm
Skyn Non Latex Condoms
Skyn Non-Latex condoms by Mates are vegan-friendly, being non-latex. Condoms are made from SKYNFEEL, an ultra-thin vegan-friendly material that provides skin to skin feeling for enhanced comfort and feeling.
Skyn Condoms Include
Original – Natural feeling, regular size
Large – For the bigger boys
Extra Lubricated – Extra lubrication for increased slipperiness and pleasure
Elite – Ultra soft
Intense Feel – Featuring rased dots for extra intense feel
Durex Vegan Condoms
There are 3 Vegan-friendly Condoms from Durex, which include Avanti Ultima, Featherlite Ultra and Deluxe.
Avanti Ultima Condoms use a cutting-edge polyisoprene material thinner than standard Latex and suitable for those sensitive to Latex. They are a standard length with a width of 53mm.
Durex Featherlite Condoms have been constructed from natural hypo-allergenic rubber latex, a very thin ultra-light material that gives you and your partner increased sensitivity during Sex. The Condoms are shaped with a flared head and are clear in colour.
Durex Deluxe has been constructed from Polyisoprene, a Vegan-friendly material with excellent heat transfer properties that improve intercourse, a natural colour.
Durex Vegan Condom Measurements
Avanti Ultima – 190 x 56 x 0.0015 mm
Featherlite 205 x 56 x 0.055 mm
Deluxe 180 x 58 x 0.05 mm
Glyde Vegan Condoms
Glyde Condoms originated in Sydney, Australia and had been specially made for the Vegan Market. They are certified by The Vegan Society, which means they are Vegan guaranteed. Glyde Condoms feature a patented double-dipping technology.
Made from 100% natural rubber latex with a non-spermicidal lubricant.
Varieties of Condoms include Maxi, Red Ribbon, Slim fit, Supermax and Ultra.
Available in 4 different sizes in a range of colours and flavours.
Glyde Vegan Condom Measurements
Maxi – 190 x 56 x 0.062 mm
Red Ribbon – 180 x 53 x 0.062 mm
Slim fit – 170 x 49 x 0.062 mm
Supermax – 200 x 60 x 0.062 mm
Ultra – 180 x 53 x 0.062 mm
Sir Richards Condom Company
Sir Richard's Condoms are Vegan Certified and Peta approved, made from 100% natural latex material free from casein, glycerin, parabens, petrochemicals and spermicides.
A variety of Condoms are available, including Ultra Tin, Pleasure Dots, Classic Rib, bed and Extra large.
Sir Richards Condom Measurements
Ultra Thin – 180 x 54 x 0.058 mm
Pleasure Dots – 180 x 54 x 0.073 mm
Classic Ribbed – 180 x 54 x 0.073 mm
Extra Large – 185 x 56 x 0.083 mm