Pjur Analyse Me!
An innovative silicone formula with natural active ingredients which has been specifically developed for use in anal intercourse, ensuring relaxed pain-free pleasure.
Absorbed by the skin, the high-quality jojoba extracts relax the anal sphincter muscle.
The silicone formula of Pjur Analyse Me! Glide provides a silky-smooth gliding feeling without a desensitizing effect, turning anal intercourse into a pleasurable experience for both partners.
Click Here For Pjur Lubricant Prices, Buying Options & Availability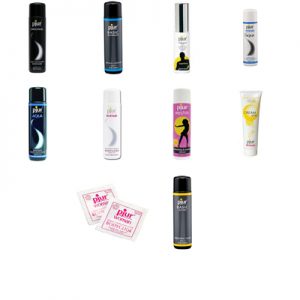 Pjur Aqua
Pjur Aqua lubricates without being sticky. It is made without petroleum, organic oils or perfumes to protect your skin and to keep it as soft as possible.
The new long-lasting formula of the Pjur Aqua efficiently nourishes your skin for a super soft glide effect.
Pjur Aqua is the perfect waterbased lubricant for daily use.
Pjur Basic Silicone
Pjur Basic Silicone optimally combines the unique gliding features of a silicone lubricant with the purity of our bodyglide.
Pjur Basic Silicone is a popular choice for people new to silicone lubricants, who discover the benefits offered by silicone lubricants during gentle and sensual massages.
Pjur Basic Silicone is odourless and tasteless.
Pjur Basic Waterbased
A water-based all-round lubricant for that unique Pjur feeling. Pjur Basic Waterbased is additive free, dermatologically tested, and ideal for daily fun.
With its unbeatable price and high-quality formula, Pjur Basic Waterbased is loved by many fans, who enjoy the way the waterbased lubricant makes their skin feel – extraordinarily silky and smooth.
Pjur MyGlide
This water-based lubricant was specially developed to excite, arouse and stimulate the female body.
The unique combination of ingredients in Pjur MyGlide, including natural ginseng, comfortably increases the blood flow.
Of course, as with all of the Pjur products Pjur MyGlide is dermatologically tested and extremely gentle to your skin.
Pjur Original
Pjur Original provides a pleasurable, long-lasting gliding feeling while making your skin smooth and silky soft. Pjur Original is super concentrated and the right choice for intimate, exciting hours. As a safe and dependable lubricant, Pjur Original promises a good time.
Of course, it is tasteless and odourless, and extremely kind to your skin.  Pjur Original is also ideal for gentle body massages, relaxing every tense muscle
Pjur Superhero Spray
The well-balanced ingredients in Pjur Superhero Spray can prevent premature ejaculation and prolong the intimate pleasure. Does not contain lidocaine or benzocaine!
Pjur Superhero Spray is dermatologically tested and safe for daily use, also condom safe.
Pjur Woman
Pjur Woman was designed especially for women, tailored to their comfort, pleasure, and sensuality. No perfumes or preservatives are used in the formula, specifically developed for a woman's soft and sensitive skin.
Pjur Woman is a moisturizer and massage fluid with an extremely long-lasting lubricating effect, giving you all the time in the world, even if the moisture of the mucous membranes is out of balance due to stress, surgery, childbirth, or menopause – Pjur Woman makes you feel new again.
Pjur Woman Aqua
Specially developed for feminine skin, Pjur Woman Aqua is both a skincare product and pleasure enhancer in one. It absorbs into the skin, making it feel silky soft. Also suitable for women experiencing vaginal dryness that may be caused by medication, stress or surgery.
Pjur Woman Cream Glide
The delicate cream gel is optimally tailored to the needs of the feminine body, making it an extra special pampering treat.
Pjur Woman Cream Glide is a silicone and water-based lubricant that is ideal as a lubricant or for use as massage fluid during a relaxing massage.
The gel is easy and convenient to portion, and it is a favourite for use with toys because it spreads so well.
Cream Glide is perfume-free, safe to use with condoms, and 100% skin-friendly.
Click Here For Pjur Lubricant Prices, Buying Options & Availability