Flared Condoms are wider at the head allowing for more room and comfort, some men are not fans of straight or snug fitting Condoms and prefer the extra room at the top. Some flared Condoms have a reverse taper with a slightly narrower head than the base.
Flared Condoms Are Available from Many Condom Manufactures which include Adore, Amore, Billy Boy, Durex, EXS, Manix, Pasante, RFSU and Worlds Best.
Click Here For Flared Condoms Prices & Availability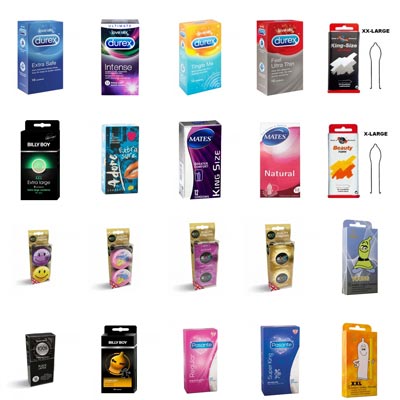 Amore XXL and Amore Wild Moments are both reverse flare condoms with widths of 55mm at the base and 52mm at the tip. Slightly flared Condoms include Adore Extra Sure, Amore Young and Billy Boy Comfort, these condoms have a flare of around 3mm. Other flared Condoms have a flare of approximately 9-10 mm.
Here are various Flared Condoms and their sizes (length x width x width at head) in millimetres so that you can find the perfect sized flared Condom for yourself.
Adore Extra Sure – 190 x 54 x 56
Amore Young – 185 x 49 x 52
Amore XXL – 185 x 55 x 52
Amore Wild Moments – 185 x 55 x 52
Billy Boy Comfort – 175 x 53 x 55
Billy Boy XXL – 195 x 55 x 62
Durex Extended Pleasure – 190 x 56 x 63
Durex Extra Safe – 205 x 53 x 63
Durex Intense Orgasmic – 205 x 56 x 63
Durex Tingle Me – 205 x 53 x 63
EXS Black Latex – 192 x 56 x 65
EXS Extreme – 188 x 53 x 62
EXS Extra Safe – 192 x 56 x 65
EXS Magnum – 195 x 57 x 65
EXS Regular – 192 x 56 x 65
Manix King Size – 195 x 56 x 68
Manix Natural – 180 x 54 x 65
Manix Xtra Pleasure – 185 x 52 x 73
Mates King Size – 195 x 56 x 68
Mates Natural – 180 x 54 x 65
Pasante Naturelle – 180 x 53 x 66
Pasante Regular – 190 x 54 x 66
RFSU Grande – 190 x 53 x 55
Worlds Best Beauty Form – 185 x 55 x 64
Worlds Best King Size XX Large – 190 x 56 x 66