There are many Extra Thin Condoms on sale in the UK the thinner walls give maximal sensitivity and the closest natural feeling to unprotected intercourse possible.
Pasante has produced the thinnest Condom possible; the Pasante Unique has a thickness of only 15 microns (a standard thin latex condom is around 50 microns) this has been made possible by using polyurethane instead of Latex.
Click Here For Extra Thin Condoms Prices & Availability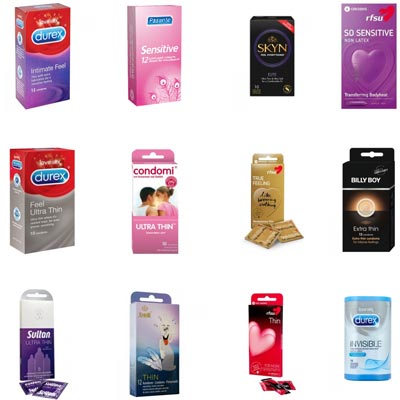 The Protex 0.02  original Condoms are also very thin with an impressive thickness of 0.025, these condoms are non-latex Polyurethane and for the larger user. RFSU So Sensitive and Pasante Sensiva are also thin Polyurethane Condoms with a thickness of 0.03 mm.
Ok so we know that Polyurethane condoms are lighter than Latex condoms, so what is the thinnest Latex Condom available?
Sultan Ultra Thin and RFSU True Feeling are genuinely the thinnest latex condoms on the market with thicknesses of 0.04, EXS Air Thin and Lelo Hex are slightly thicker at 0.045 mm.
Here are the sizes for all the thinnest Condoms under 0.05 mm thick
Pasante Unique – 180 x 60 x 0.015
Protex Original 0.02 – 190 x 58 x 0.025
RFSU So Sensitive – 190 x 58 x 0.03
Pasante Sensiva – 190 x 58 x 0.03
RFSU TRue Feeling – 180 x 52 x 0.04
Sultan Ultra Thin – 180 x 52 x 0.04
EXS Air Thin – 190 x 56 x 0.045
Lelo Hex – 189 x 54 x 0.045
Mid level Extra sensitive Condoms fall in the 0.05 thickness range these include.
Manix Contact – 185 x 52 x 0.053
Pasante Feel – 190 x 54 x 0.053
Durex Ultra Thin Feel – 205 x 52 x 0.055
Durex Thin Feel – 205 x 56 x 0.055
Mates Skyn Elite – 180 x 53 x 0.05
Mates Ultra Thin – 185 x 54 x 0.05
Amor Thin – 185 x 53 – 0.05
RFSU Thin – 185 x 53 x 0.05
Durex Invisible Extra Lubricated – 190 x 52 x 0.05
Durex Invisible Extra Sensitive – 190 x 52 x 0.05
The remaining Extra thin condoms move towards standard Condoms in terms of thickness and sensitivity, these include
Billy Boy Extra Thin – 185 x 52 x 0.06
Durex Intimate Feel – 200 x 56 x 0.065
Condomi Ultra Thin – 185 x 52 x 0.07