EXS Regular
EXS Regular silicone lubricated latex condoms feel as natural as a skin on the skin while providing protection. These condoms are teat-ended, natural rubber latex, and each condom has a non-spermicidal lubricant.
EXS Regular condoms are made from natural latex and are lubricated with silicone lube. If you are looking for a quality condom at a low price then EXS Regular condoms are a good choice.


Click Here For EXS Condoms Prices, Buying Options & Availability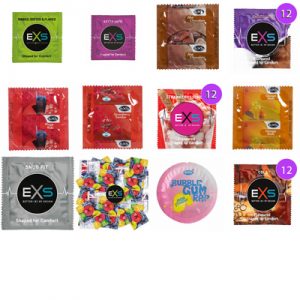 EXS Air Thin
While most condoms are at least 0,065mm thick, the new EXS Air Thin revolutionizes the condom market. LTC Healthcare managed to manufacture one of the thinnest latex condoms of the world with 0,045mm thickness using state-of-the-art technology to stretch the latex to the maximum while keeping its natural and untouched strength. The result is EXS Air Thin: an ultra-thin condom giving unprecedented feeling and sensitivity. Each condom is electronically tested for extra safety.
EXS Black Latex
EXS Black Latex condoms are silicone lubricated natural rubber latex condoms. These condoms are black and anatomically shaped for a better fit. They are 100% electronically tested and come CE certified.
EXS Bubblegum Rap
EXS Bubblegum Rap condoms smell just like bubblegum and without any rubbery smell. This innovative condom will add fun to your sex life with its fabulous aroma, flavour and funky round packaging
EXS Crazy Cola
EXS Crazy Cola condom comes from the EXS Taste the Difference Range. With a cola flavoured lube, these condoms are sure to get your taste buds bubbling!
EXS Delay
This product was designed by EXS to help enhance lovemaking and avoid premature ejaculation, so the excitement lasts even longer every time. As the condom does the work for the wearer, he can relax and enjoy the moment without worrying.
It prolongs lovemaking and increases performance through the use of a mild anaesthetic cream which helps to delay climax. Delay Condoms are created to the exacting quality specified by all products from EXS, and they meet all existing safety standards.
EXS Extra Safe
EXS Extra Safe (former EXS Max Protection) condoms are slightly thicker than standard condoms for max protection when reassurance is needed!
EXS Extreme 3 in One
The EXS Extreme 3 in One condom is ribbed and dotted to increase your partner's pleasure. This condom also has a flared shape to provide extra stimulation to you and your partner.
EXS Hot Chocolate
The EXS Hot Chocolate condom comes from the EXS Taste the Difference Range. This condom has a strong and authentic hot chocolate flavour. Highly recommended to try!
EXS Magnum
Are regular condoms way too small? Size does matter? Than the EXS Magnum condoms are just the right thing for you!
EXS Magnum condoms are larger than regular condoms, silicone lubricated and made from latex. They will help you to feel comfortably protected and assure the same safety as a regular condom.
All EXS Magnum condoms are electronically tested to reach the European standards of safety.
EXS Orange Soda
The EXS Orange Soda condom comes from the EXS Taste the Difference Range. These condoms contain a unique orange soda flavoured lubricant, added to increase the taste and smell sensation, unlike other brands that have little or no taste.
EXS Smiley Face
he EXS Smiley Face Condom offers great protection, comfort and stimulation as these condoms are designed to fit comfortably over the penis, and are teat-ended for easy appliance and removal.
EXS Smiley Face Condoms are silicone lubricated natural rubber latex condoms anatomically shaped for a better fit. All EXS Smiley Face Condoms are flared tipped Condoms with no flavour and come in a round wrapper with an entertaining smiley face in different colours. They do not have a latex smell.
EXS Snug Fit
EXS Snug Fit condoms have a slightly tighter fit for men that find that regular condoms slip off during intercourse. The condom is 3mm narrower in shape than the average condom measurements, just enough to offer more contact for as long as it is needed.
Snug Fitting condoms can delay male sensitivity and delay ejaculation. They provide a natural skin on skin feels while providing maximum protection during intercourse. All EXS Snug Fit condoms are electronically tested to reach the European standards of safety.
EXS Strawberry Sundae
The strong and authentic Strawberry Sundae Flavour replaces the normal latex smell of a condom for more intimate lovemaking. EXS Strawberry Sundae condoms are straight and pink in colour.
Click Here For EXS Condoms Prices, Buying Options & Availability