Billy Boy Black
Billy Boy Black condoms are lubricated, smooth, cylinder-shaped and have a reservoir.
Billy Boy Comfort
Billy Boy Comfort condoms feature a baseball bat shape with extra room at the top. These condoms have extra lubrication and a smooth surface. They are manufactured with all superior natural latex to ensure reliability and comfort.
Click Here For Billy Boy Condoms Prices, Buying Options & Availability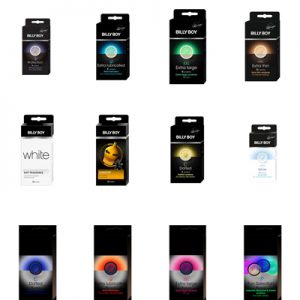 Billy Boy Dotted
Billy Boy Dotted condoms have a studded texture. These condoms are made from natural rubber latex and feature a reservoir tip and a skin-friendly silicone lubricant. Billy Boy Dotted condoms have a standard shape.
Billy Boy Endurance
Billy Boy Endurance condoms have a ring just beyond the glans. This helps the condom in place. This built-in ring gently applies pressure where you need it so it may help in delaying the male orgasm. Because of this built-in ring, the condom is also better suited to the less well-endowed men.
Billy Boy Extra Lubricated
Billy Boy Extra Lubricated has extra lubrication and is made of natural rubber latex and has a reservoir. This condom is smooth and cylindrically shaped.
Billy Boy Extra Thin
Billy Boy Extra Thin condoms make sex with a condom feel just like without! This condom is specifically designed to achieve real feeling with the reassurance of knowing you are protected. Billy Boy Extra Thin condoms are made of natural rubber latex, has a reservoir and are cylindrically shaped.
Billy Boy Latex-free
Safer sex despite latex allergy! Billy Boy Ultra Sensitive condoms are made from the material polyurethane, and it is specially made for latex allergy sufferers. With only 0,028mm thickness this condom guarantees ultra-sensitive sexual experiences. They are latex-free, incredible tear-proof, odourless as well as warming. Billy Boy ultra sensitive condoms are skin-friendly and dermatologically tested.
Billy Boy Protection
The Billy Boy Protection condom is smooth, transparent and is cylindrically shaped. with a thickness of 0.1-millimeter, this condom adds protection to ensure special safety and lasting pleasure
Billy Boy White
Billy Boy White is a super sensitive condom. This condom is extra thin for increased sensation with a pleasant non-latex fragrance. That very pleasant fragrance gives the Billy Boy White condoms that extra mile. These condoms are smooth, transparent and are made of natural rubber latex. They are also a cylindrical shape with a reservoir.
Billy Boy XXL
Billy Boy XXL condoms are slightly longer and wider which provides extra space for those who need it. Billy Boy B2 XXL is made only from natural latex and is lubricated for a more natural feeling.
Click Here For Billy Boy Condoms Prices, Buying Options & Availability